Introduction
YARN Timeline Service v.2 is the next major iteration of Timeline Server, following v.1 and v.1.5. V.2 is created to address two major challenges of v.1.
Scalability
V.1 is limited to a single instance of writer/reader and storage, and does not scale well beyond small clusters. V.2 uses a more scalable distributed writer architecture and a scalable backend storage.
YARN Timeline Service v.2 separates the collection (writes) of data from serving (reads) of data. It uses distributed collectors, essentially one collector for each YARN application. The readers are separate instances that are dedicated to serving queries via REST API.
YARN Timeline Service v.2 chooses Apache HBase as the primary backing storage, as Apache HBase scales well to a large size while maintaining good response times for reads and writes.
Usability improvements
In many cases, users are interested in information at the level of "flows" or logical groups of YARN applications. It is much more common to launch a set or series of YARN applications to complete a logical application. Timeline Service v.2 supports the notion of flows explicitly. In addition, it supports aggregating metrics at the flow level.
Also, information such as configuration and metrics is treated and supported as first-class citizens.
The following diagrams illustrates the relationship between different YARN entities modelling flows.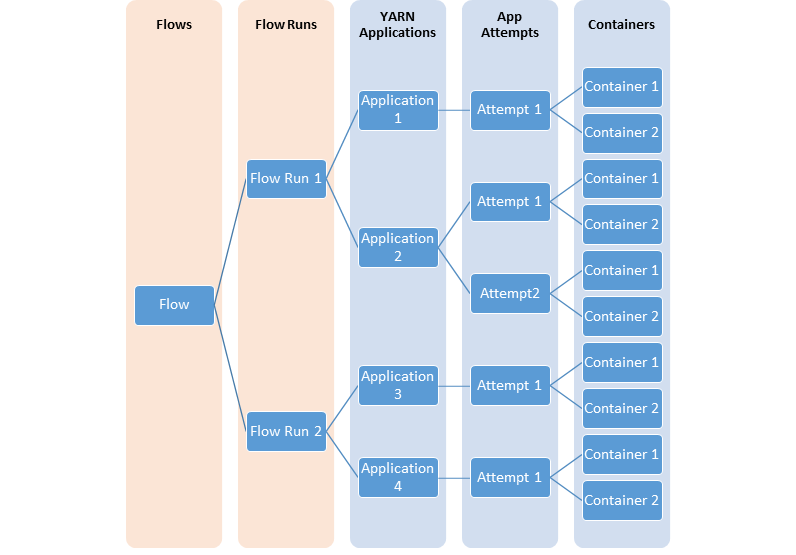 Architecture
YARN Timeline Service v.2 uses a set of collectors (writers) to write data to the backend storage. The collectors are distributed and co-located with the application masters to which they are dedicated. All data that belong to that application are sent to the application level timeline collectors with the exception of the resource manager timeline collector.
For a given application, the application master can write data for the application to the co-located timeline collectors (which is an NM auxiliary service in this release). In addition, node managers of other nodes that are running the containers for the application also write data to the timeline collector on the node that is running the application master.
The resource manager also maintains its own timeline collector. It emits only YARN-generic lifecycle events to keep its volume of writes reasonable.
The timeline readers are separate daemons separate from the timeline collectors, and they are dedicated to serving queries via REST API.
The following diagram illustrates the design at a high level.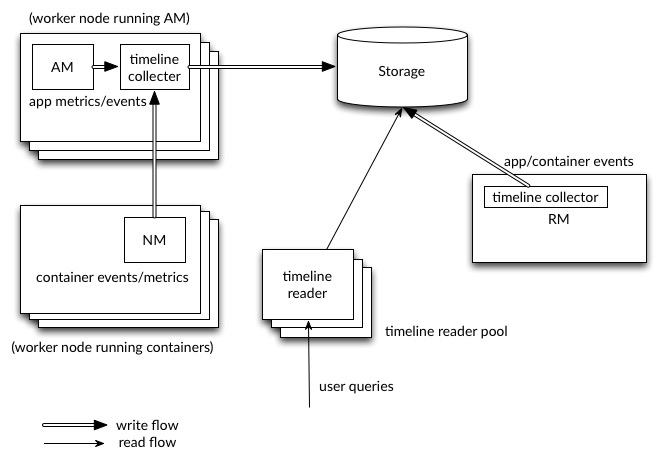 Current Status and Future Plans
YARN Timeline Service v.2 is currently in alpha ("alpha 2"). It is a work in progress, and many things can and will change rapidly.
A complete end-to-end flow of writes and reads is functional, with Apache HBase as the backend. You should be able to start generating data. When enabled, all YARN-generic events are published as well as YARN system metrics such as CPU and memory. Furthermore, some applications including Distributed Shell and MapReduce can write per-framework data to YARN Timeline Service v.2.
The basic mode of accessing data is via REST. Currently there is no support for command line access. The REST API comes with a good number of useful and flexible query patterns (see below for more information).
The collectors (writers) are currently embedded in the node managers as auxiliary services. The resource manager also has its dedicated in-process collector. The reader is currently a single instance. Currently, it is not possible to write to Timeline Service outside the context of a YARN application (i.e. no off-cluster client).
Starting from alpha2, Timeline Service v.2 supports simple authorization in terms of a configurable whitelist of users and groups who can read timeline data. Cluster admins are allowed by default to read timeline data.
When YARN Timeline Service v.2 is disabled, one can expect no functional or performance impact on any other existing functionality.
The work to make it truly production-ready continues. Some key items include
More robust storage fault tolerance
Support for off-cluster clients
Better support for long-running apps
Support for ACLs
Offline (time-based periodic) aggregation for flows, users, and queues for reporting and analysis
Timeline collectors as separate instances from node managers
Clustering of the readers
Migration and compatibility with v.1